In this episode I talk about how I use mind maps and why I find them liberating. Mind maps are an important part of my creative toolbox, but my mind mapping process is a bit different from the traditional form. I hope you will enjoy hearing about it.
Links mentioned in this podcast
A Writer's Time, by Kenneth Atchity
The above is an affiliate link and I may earn a small commission from it.
Mind Map Examples
My original mind map for this episode. I wrote the first draft directly from this mind map.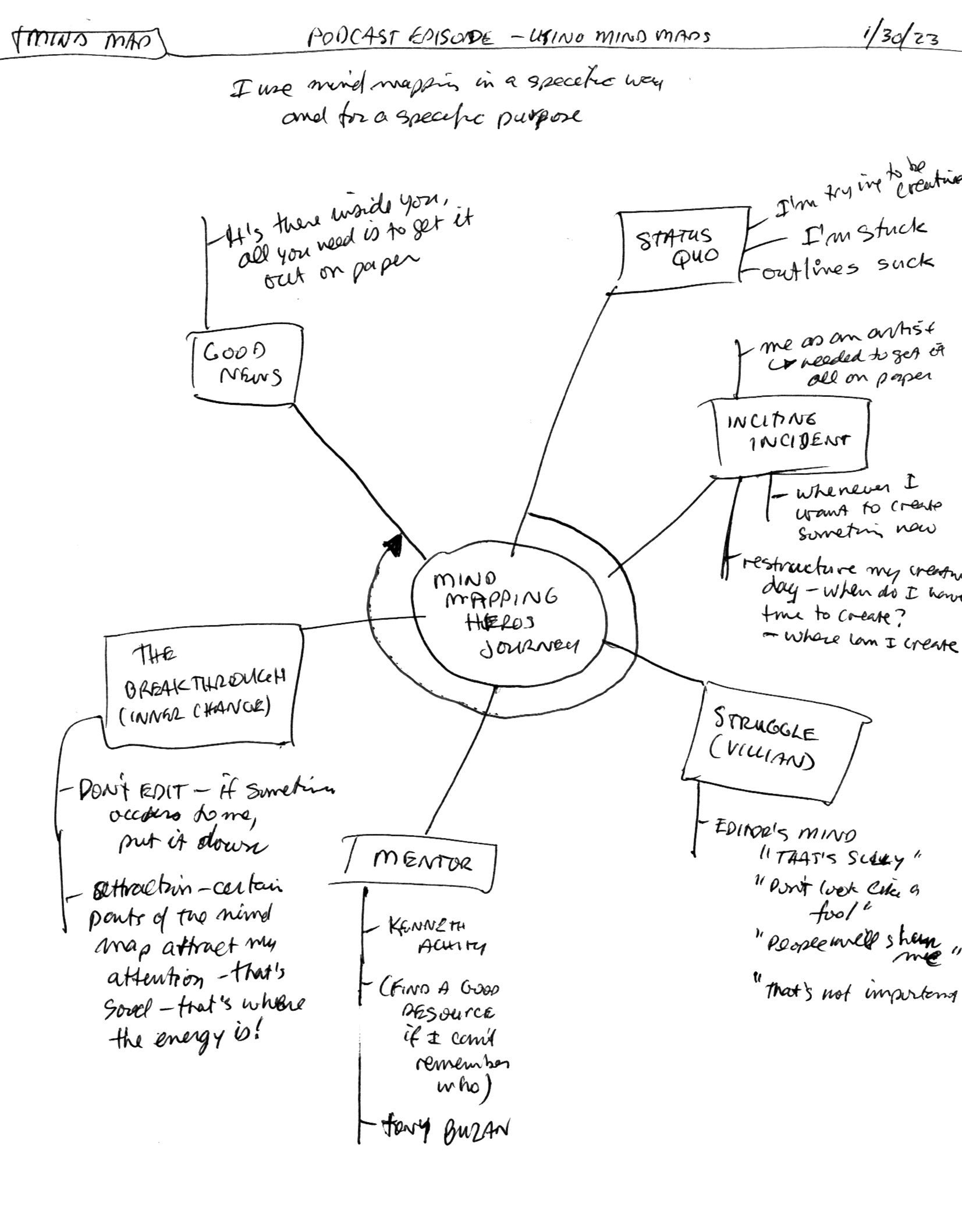 This second mind map is for a podcasting workshop that I will be giving at Hunt and Gather in May 2023. I developed this into a traditional outline and from there I created slides for the presentation.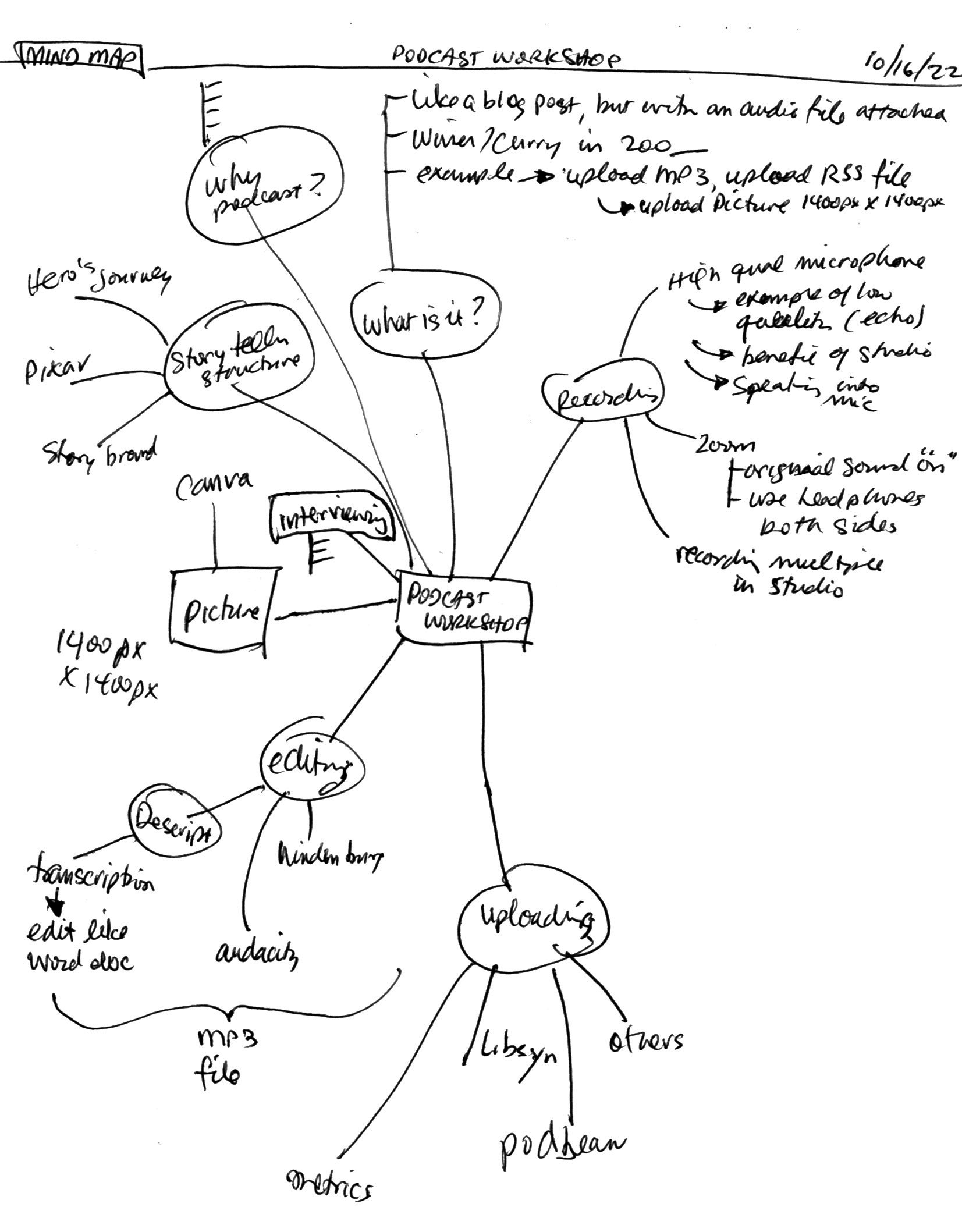 Transcript
Hello and welcome to the Creative Shoofly podcast. I'm Thomas Beutel. This podcast is about exploring the creative journey as an artist, and in this episode, I want to talk about mind maps and how I use them in my creative process.
What I like about mind maps is they're quick, they help me discover connections, and they help me overcome my inner self-editor.
I don't know about you, but I get stuck a lot. I get blank page syndrome when starting a new project. I have a vague idea of what I need to do, but I don't know what I should write down first.
The tool that first comes to mind is outlining. I think most of us learned outlining in school and outlines can be good, but I find myself spending a lot of time thinking about the order. What comes first and what's next, and does this belong in a sub-bullet or in its own thing? And does this thing even belong here? Outlining is one hard decision after another, and I find that trying to make an outline from scratch is a big struggle.
So I find myself avoiding starting the whole process. I distract myself with something else like surfing, YouTube, or seeing what's been posted on eBay today.
But a while ago I discovered mind mapping. It's not a new technique. It was created by Tony Buzan and became popular in the '60s and the '70s. I think I first picked it up in the '90s when I was reading a book about creative writing.
I don't recall the name of the author or the book, but it emphasized that mind mapping promised a better way to organize ideas. It promised speed and ease. it also promised liberation from that voice in your head that was always saying no, which I thought was quite a claim to make. How could a breakthrough tool for making organizing easier also free your mind?
And if it really does that, why isn't everybody using it?
I think there's a natural reluctance to try something that few people are talking about. No one I know or met was using mind maps, and if they were, they weren't telling me. I don't know if mind mapping is taught in school today.
It certainly wasn't in my day. I imagine that a mind map would be a hard thing to grade as a teacher because each mind map is so unique to the person making it.
Some folks probably also wonder how it is relevant to the creative process. They might ask whether anything is really wrong with the standard approach of outlining and making simple lists as an organizing principle.
When I mention mind mapping, others also say that it's far too complicated. When you go online and look at examples of mind maps, a lot of them look like works of art, like a beautiful tree with a thick trunk and gorgeous multicolor leaves. People have also told me that mind-mapping software is too complicated and too expensive.
My answer to all of these concerns is to just keep it simple.
For my mind maps, I use paper and pen, and they're definitely not works of art. I rarely use color and unless someone asks, I don't show them to anyone. In fact, once I'm done with them, they usually go in the trash.
You're probably listening to me now thinking if they go in the trash, how can they be useful?
Well, let me explain. For me, mind mapping is about getting as many ideas down on paper and out of my head as fast as I can. I start in the center of the paper and I write down the idea that I want to explore. I'll draw a circle around it, and then I draw a line to another part of the paper. I write down whatever pops into my head, and then I draw lines from that and write down more related ideas.
There are really no rules. I just draw lines from idea to idea wherever there's space on the paper. Eventually, my paper is filled with a mess of circles, lines, and ideas, and it looks like a crazy spider with big padded feet. In fact, another name for this is Spider Diagram.
The goal is to brainstorm, make connections, and most importantly, avoid my inner editor. It's that inner editor that is always getting in the way. You know the voice that says, "Don't you dare write that down! That's silly! You'll look like a fool! That's not important! That's irrelevant!"
When I'm outlining, my mind naturally tries to organize, and organizing means editing. But when I mind map, I'm not organizing. All I'm doing is connecting. And I do this as fast as I can. As I'm writing things down and a thought occurs and I find myself hesitating, I tell myself, "Don't edit! Just write it down."
There's usually a point when I slow down and I can't think of any more ideas or connections. It's at this point that I notice which parts of the map attract more of my attention. There's a moment when I look at the map and realize, oh, this part over here is really interesting.
The map is showing me what I should pay attention to and what I should work on first. When the mind map is done, I usually know what my next step is. Sometimes it might be making a formal outline or maybe a project plan. It all depends on what my mind map is about.
It was British educator Tony Buzan who created mind mapping, and I want to emphasize that I don't follow his exact method. He emphasizes that each branch should be labeled with only a single word and that you should incorporate images and color.
The principle behind the single-word rule is that single words are likely to conjure more connected ideas. In other words, if you put down phrases or whole sentences, you potentially limit yourself to fewer connections.
I see the usefulness in that approach, but in practice, I have not seen my approach of writing whole phrases as a limitation. In fact, when I learned mind mapping, the emphasis was not so much on connections as it was on speed. I learned that the main goal was to get down as much as you can without editing yourself.
For me, it's the quickness that makes mind maps effective.
And I do sometimes draw images and use colors, but not at the expense of being fast. Buzan emphasizes that mind mapping is a great tool for taking notes at lectures or while reading a book. I do that sometimes and it is true. It is actually a great tool for those things. The visual and connected nature of mind maps makes them great for recalling ideas later, but I'm not using mind mapping for taking notes. The goal is to get ideas stuck in my head out and down on paper.
There's a technique using index cards that's very similar to how I do mind mapping. Kenneth Achity in his book, A Writer's Time, talks about how the mind contains a multitude of voices.
In his model, there's a continent that represents the unconscious mind and its memories.
There are islands that represent the thoughts, ideas, and perceptions that the conscious mind is currently aware of and actively engaged with.
And finally, there's an inner editor who mediates the conversation between the islands and the continent and who will often prevent those connections from being made.
Atchity suggests using index cards to help make those connections all while setting the inner editor aside.
For example, if you're writing a short story, you can write individual scenes and snippets of dialogue on each card, even if you don't know yet what order the scenes will occur, or if a particular scene even makes sense.
Once you've collected a number of scenes, you can arrange them in order to see what would make sense story-wise. In the process of putting them in order, you might surprise yourself with a scene order that never occurred to you. And often the process of putting scenes in order will spur more ideas for more scenes and dialogue or help clarify something that was missing.
I tried this with a short story that I wrote recently for the B0ardside zine, and I was delighted with how well it worked. The key to this method was to start explicitly by not concerning myself with the order of the scenes.
Just as I do with mind mapping, I just thought of as many scene ideas as I could, in a short amount of time. Only after I had exhausted myself of ideas did I allow my inner editor to join in the fun of creating a story.
For those of you who do creative writing, I'll post a link to the book in the show notes. I've been using mind mapping and Atchity's index card technique for many years now. And what I now know is that the key for both of them is to sidestep my inner editor.
The breakthrough for me was when I realized that my inner editor is a trusted partner in the creative process, but I needed to delay or hold it off until the time was right. I need my inner editor to take a vacation at the start of any project until I had enough ideas on paper from which I could make new and interesting connections.
Ideas are there inside of you. You need a tool to get them out on paper.
I like mind maps for this process because they're quick. They help me make connections, and most importantly, they help me overcome my inner self-editor.
When it comes to your inner editor, make a deal with it. Send it off on a vacation. Get all of those great ideas out of your head and onto paper. Make connections that hadn't occurred to you before. And then when you're ready, call the inner editor back in to do its job.
The mind mapping process does not need to be complicated. I took the basic ideas of mind mapping and made them my own. I encourage you to do the same. I hope that you'll give mind maps a try in your creative process.
Thank you for listening to this episode of the Creative Shoofly. If you're interested, please visit creativeshoofly.com and you can see a few examples of mind maps that I've done recently, including the mind map that I did to create today's episode.
If you like today's episode and want to hear more about the creative process, please consider subscribing to the Creative Shoofly wherever you get your podcasts.
That's it for now. Be well and be creative.